On Wednesday the 25th of May, The Bunker attended 'Beyond the Band Pit' in collaboration with Sunderland Empire and St Aidan's School, with the aim to achieve a bronze Arts Award. We were split into two groups – tech and musical, which then defined what workshop we took part in.
The Tech group was given an in-depth tour of what goes on behind the scenes of a big musical production such as 'American Idiot', they experienced all the different equipment and job roles that are crucial to the performance that you just don't see as a member of the audience. The musicians got involved with the band from the show and they learned how to play the song 'American Idiot' on an instrument of their preference. There were drummers, bassists and guitarists, all of which enjoyed their experience with the band.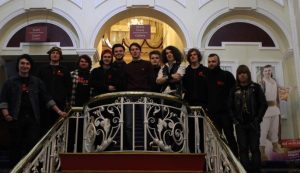 Day 1:
On the 31st of May, those involved in the workshop met at the bunker to continue work on the bronze level arts award, this was done firstly by each of the participants being given a log book to share their thoughts and ideas on the 'American Idiot' performance at the Sunderland Empire as well as shine some light on their interests and hobbies outside of their group be it musician, tech or creative. The musicians are now currently working on a performance of 'American Idiot' to showcase what they learnt from working with the musicians that were featured in the musical performance as well as create an original song with their own structure and lyrics, set to perform Friday.