On Sat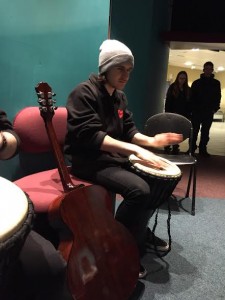 urday 9th of April, The Bunker held a percussion workshop at the Winter Gardens in Sunderland. It involved djembe's and guitars and was held in one of the exhibit rooms in the museum. Adrian Dunn and Ceiran Braddock invited people to join them in a circular seating area to play music on the instruments they had, the djembe's were a crowd favorite and were easy to pick up and play, which made them particularly appealing to the young kids that were drawn in by the music, however some of the younger children found them to be a little bit scary, but Adrian and Ceiran's charm always drew them in by the end.

It was a particularly busy day in the Winter Gardens, aside from our workshop there was also a scavenger hunt for the youngsters. There were many 'dinosaur clues' scattered across the museum that, when all the clues were found, rewarded the kids with a goody bag. This probably brought some extra interest to our workshop as the final piece of the puzzle was situated right behind us
and everyone had to brave through the tasty beats if they wanted to get their hands on the prize at the end.

The workshop was constantly busy throughout the day, a steady flow of people came in and wanted to try out the instruments we had. The djembe's weren't just a big hitter with the kids either, some adults joined us for a while; it seemed to almost wake up their inner child. There were many moments where the workshop had around 8 or 9 people at any one time, all collaborating on one big song that resonated throughout the Winter Gardens. It would be fair to say that the sales of djembe's might go through the roof in the next couple of weeks.