Thursday, 06 February 2014 12:41
A 10 week project has begun at The Bunker for a group of young carers from Sunderland. Funding from the Young Carers Can… arm of the Carers Trust was granted in December last year for a Rock School project to be ran at The Bunker, specifically for a group of young carers. There will be up to 16 young carers aged between 11-13 attending the rock school on a Wednesday evening, ran by Stephen Fay, until the end of March.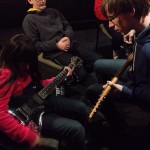 The project aims to combine structured activities and the development of music skills with the fun and social aspect of music. The young people will be learning to play a variety of instruments, forming bands and writing their own songs.
They will then have the chance to record these songs in The Bunker's recording studio and design their own album covers as their song is put onto a CD. They will also have the opportunity to perform their songs at the end of the project. Stephen commented, " I have worked on many rock school projects, but this is very exciting to have a large group of young people in every week. It's going to be a lot of hard work- they're very talkative! I think it's great that The Bunker can offer services like this."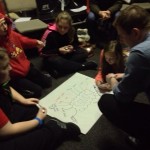 The young carers usually attend a weekly session at the Sunderland Carers Centre, but for now, they will attend The Bunker instead. Claire Alderson, from the Carer's Centre said, "It's a fantastic opportunity for the young people to have the opportunity to go to The Bunker and get involved with something they've never done before. For a lot of them, it's their few hours of down-time a week, so engaging them in activities such as the rock school can be a lot of fun with their friends."
We will be updating our website with regular news on how the young people are progressing through the Rock School, along with plenty of photos and video footage so you can follow their journey to becoming the next big bands!
For more information on Carers in Sunderland, please visit www.sunderlandcarers.co.uk or check out their Facebook page http://www.sunderlandcarers.co.uk/facebook.html.
If you would like to know more about our Rock School projects, please contact The Bunker on 0191 5671777 or email info@bunkeruk.com.