Thursday, 13 August 2015 15:02
Don't be late for this very important date; August 24th – 30th, The Bunker is playing host to an musical adventure through the rabbit hole, exploring the world of lyric writing. The workshops will run Monday to Friday 10:00 am till 12:00 pm and will cost £40 per person, this price includes everything: Tuition, instruments and room hire. Each day there will be a two hour workshop where participants will get the chance to experience first hand what is needed to write lyrics and compose a final song which will be performed in front of the red queen herself.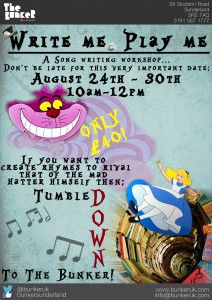 Don't worry about losing your head, our staff will be on hand to guide you through the wonderland that is music creation. The workshops are open to anyone aged 8 and above and prior knowledge is not essential. So if you would like to attend a truly silly tea party of an event and create rhymes to rival that of the mad hatter himself then;
Tumble
D
O
W
N
to The Bunker, contact us on 0191 567 1777 or email at info@bunkeruk.com.
Be sure to Enrol now!