Wednesday, 05 October 2011 17:24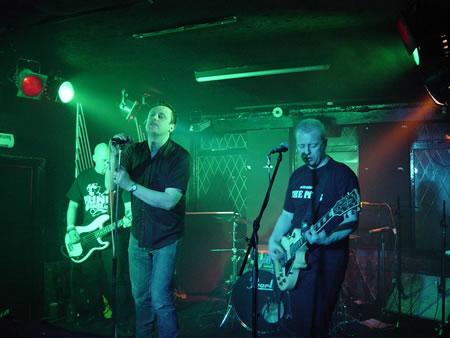 The Pits formed in 1996 as an antidote to the creeping malaise that had crept into the English music scene over the past God knows how many years.
Disgusted by the slacker image of the grunge movement of the U.S.A and the fey posturing of the sixties revisionist Brit poppers – who always sounded more like Herman's Hermits than The Who, The Pits looked to the bands that they always loved – The Sex Pistols and The Clash and decided, let's make music like this… only better.
A mammoth task in these cynical nineties you might say, but as the millennium dawned and The Pits released their debut album, "Introducing The Pits" (in early 2000) you will have the chance to judge for yourself whether these four men have achieved their ambitiously ambitious ambition.
Further albums followed with Face of England (2002) and New Conspiracies (2006) each fine tuning the bands sound. In an industry, which is saturated with gimmickry, lies, false prophets, and prostering by dancing fools and prostitutes, The Pits give you a band with the ultimate gimmicks.
Songs (remember them) attitude (get some) and a live show that will inspire the world over to question how success has become the commodity of the mediocre, fame the bastard child of Mistress Tame.
Your record collection is too big and your studying has long been completed. Select your chosen subject, burn your books and go to see The Pits…. They are what you need to know..