Wednesday, 05 October 2011 17:25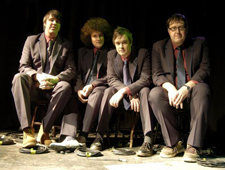 The Golden Virgins came into being when the former members of Sunderland scene godfathers Brilliantine managed to get hold of a four-track recording device. Over two drunken nights they recorded three songs: 'I've Seen the Light', 'Staying Sober' and 'From the Garage to the Country'. After months of listening to these recordings, the band became convinced that the songs were better than anything being played on the radio, and duly sent off a demo to labels they thought might be interested.
The resultant A&R scramble has now passed into music business legend. Rex Records emerged victorious and released the home-recorded demo as the band's debut single.  Suave, enigmatic and aloof, The Golden Virgins have no truck with much of what passes for modern music; whether it be the dire chart-cover-fodder peddled by the latest crop of stage-school non-entities or the idiotic smack-boy posturing of the so-called 'alternative' rock scene.