Monday, 29 September 2014 10:17
The Bunker is working with Sunderland College to bring students the opportunity to take part in free music workshops as part of the college enrichment program. As part of this Enrichment Roadshow, creative apprentices on behalf of The Bunker have been traveling from campus to campus signing up willing participants – this includes Bede, Hylton, Washington, and St Peter's.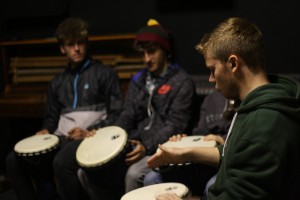 Enrichment provides opportunities for students to discover new interests, new hobbies, and perhaps even new career paths. It can make you stand out from the crowd when applying for a job or a university placement – even just taking part will help to shape your future by gathering first-hand experience.
Hannah, Funding Co-Ordinator at The Bunker had this to add: "We are always looking for new opportunities to engage with young people across the city, so it's particularly exciting to be working with Sunderland College and delivering music workshops at their campuses. It gives the students a wider variety of things to be taking part in and we hope that they all take the opportunity to sign up at the Enrichment Roadshow."
Want to know what The Bunker has planned? Get in touch: Tel. 0191 567 1777 info@bunkeruk.com
If you want to find out more about enrichment, then contact Sunderland College direct: Tel. 0191 511 6000 info@sunderlandcollege.ac.uk
To make workshops like these possible, your support goes a long way. If you have the chance, please visit http://tinyurl.com/mmcicvote to vote for Monumental Music (a.k.a. The Bunker) in the Lloyds Community Fund campaign so that The Bunker have a chance of winning up to £3000! This will enable funding for more work with the community, more partnerships, but most importantly – making the facility more accessible to the people of Sunderland and beyond. Voting ends Friday 10th October.