Wednesday, 05 August 2015 14:37
Who are Singing Club?
If you don't already know who singing club are, then we must educate you…
They are a group of 8-17 year olds who come to The Bunker to sing their favourite songs and learn harmonies. The Singing Club has been running for 2 years and have performed at Our Big Gig and even recorded songs at The Bunker!
Why have they made us proud?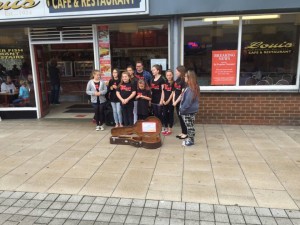 They wanted to raise money for a trip to light water valley as a treat for all the hard work they put into their performing and singing, so they decided to have their very own gig at Louis Café on Park Lane. By busking in town and selling their own CDs, they managed to raise enough money for their trip! They enjoyed themselves so much that they are even looking into putting more of their own gigs and little busking shows on soon!
We are so proud of them! Well Done to The Bunker Singing Club!