Monday, 31 March 2014 13:24
The Bunker's Singer's Club members took a step towards fame this month with their appearance on Spark FM. Appearing on Ed Tuite's Show on Saturday morning, they performed 3 of the songs they have been working on at The Bunker. Along with a Glee medley and Shine A Light by McFly, they did their version of 'Royals' by Lorde (Which can be heard at the bottom of this page.)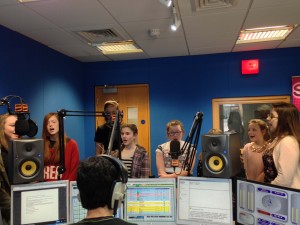 After they performed, Ed interviewed Charlie and Cory from the group, live on his show. Giving them an opportunity to see how the world of radio works, they even got to do a shout out and introduce a song! The group then had a tour around the studios at Spark FM, getting to see the old Blue Peter set from the 1970s that the University Of Sunderland have acquired.
Kayleigh Lindstedt, vocal coach of the Bunker's Singing Club commented on how these experiences are a great opportunity for the young people:
"The group are really enjoying working together and having the opportunity to perform on local radio stations like Spark FM help build their confidence. It's exciting for me as well as them and they should feel extremely proud of what they have achieved in such a short time."
Once the groups radio appearance was over, The Bunker's Singing Club were offered the chance to come back and record a music video in April of this year. So keep your eyes open for The Singing Club's brand new pop video!
The Singer's Club runs 10am-11am on a Saturday morning, and its only £5 per class! It's a fun and friendly atmosphere and anyone is welcome between the ages of 8-18. If you are interested in signing up for the course, know someone that might be or just want to know more information please call 01915 671 777 or email info@bunkeruk.com.