Thursday, 16 October 2014 10:52
New supporters of the Arthritis Research UK Sunderland Group gave an amazing insight into the benefits of how music can help take the pain away for those suffering from arthritis, the biggest cause of pain and disability in the UK. Music and arthritis was the theme and topic discussed at the groups monthly meeting held on Monday 13th October at the TESCO Extra store Sunderland Community Room.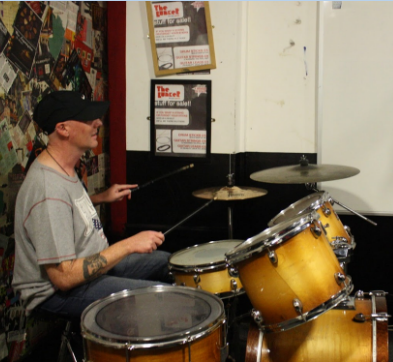 John Hope, from Pennywell in Sunderland, joined the Arthritis Research UK Sunderland group and shared his story. John battled with the symptoms of arthritis from the age of 18, finally diagnosed in his mid-30's. John, now 45, is beginning to manage his daily pain in his hands, toes and spine. 5 weeks ago John signed up to The Bunker. All he knew at that time was that he was interested in music and really wanted to learn how to play the drums. At that point John couldn't even hold a pen let alone master the art of the drum sticks! Thanks to The Bunker, a dynamic group committed to heal through music, John looks forward to his weekly tailored lesson and was amazed that he managed to hold (and not drop) his drum sticks and sit on stool for over an hour, something he could never have dreamed of doing at home. John is a true PAIN KILLER.
John said "Music releases endorphins which help sub-due the pain and lighten my mood, the personal tuition and support I have received from The Bunker has helped me enormously and now we are working towards tapping a base drum which given the acute pain I suffer in my spine, feet and toes every day is a real challenge – and yes with Cieran, my personal tutor, from the Bunker, I will conquer my personal challenge and I will tap a base drum soon"
The Arthritis Research UK Sunderland Group will be holding a 'Christmas Music Fundraising and Awareness Event' on Monday the 8th of December from 12 noon until 4pm at the Sunderland TESCO EXTRA Store. Come along and meet members of the group, listen to an array of different music genres, learn how to play the jamboree – whatever your music passion, learning to play the piano, guitar, drums, percussion or African drums? You will be guaranteed a very welcome, as John was today.
If you would like to make a donation to Arthritis Research UK during National Arthritis Week or if you'd like to Be a PAIN KILLER this National Arthritis Week it's not too late to get involved there are many events planned across the North East or you may wish to organise your own fundraising activity. Please contact Caroline Robertson, Regional Fundraising Manager on 01388 488933 or 07528 699 688 or c.robertson@arthritisresearchuk.org Your support and generosity will help us win the battle to take the pain away and together we'll be one step closer to finding a cure.
The Arthritis Research UK Sunderland Group meets on the 2nd Monday of every month in the Community Room at the Tesco Extra Store, Sunderland. Coffee and chat at 2pm. The next meeting is on Monday the 10th of November
For more information on arthritis visit www.arthritisresearchuk.org
For more information on National Arthritis Week visit
www.nationalarthritisweek.org