Friday, 11 July 2014 13:11
So Mackem Mashup is finally upon us. Today, Pop recs in Sunderland will play host to a selection of activities from Djembe drumming to Song Writing, as well as a selection of live performances form local talent. For those who don't know about Mackem Mashup, here's a little history: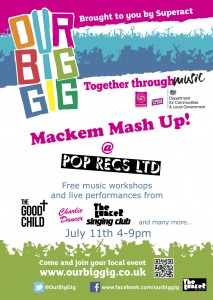 Monumental Music, a community interest group based at the bunker, set up a crowd fund to raise money for a day of Musical Events as part of the 'our Big Gig' initiative. A brilliant totally of £830 Pounds was raised to fund the cause and before you knew it we had the money to go ahead.
Here's Hannah Matterson, a Community Event Organiser from the The Bunker, talking about what Mackem Mashup and the 'Our Big Gig' initiative is all about:
"We understand the importance of music in communities and so we're really pleased to be able to deliver this kind of event in Sunderland. We hope that people of all ages will come along and take part in some really fun and interesting music workshops whilst enjoying the live music from some of our great local talent pool."
So what can you expect from the gig. Well along side performances from Charlie Dancer and a newly reformed The Good Child, there will be a selection of activities. The idea behind the activities is to help engage the community in the creative world. Monumental music truly believe that music should be for everyone is a great way to bring people together. Stephen Williams, Minister for Communities, said:
"Live music is a great way of getting people from all different backgrounds, and from right across the country, involved in their local community. With a weekend of free entertainment thrown into the bargain, the 'Our Big Gig' weekend will help turn strangers and neighbours into friends and encourage lots of people to get involved in music, in some cases for the first time."
So come to pop recs on tonight night to have a really good time! What more could you ask for; great live music, fun musical workshops and to meet a whole range of people who just like you want to be involved in the world of music. If you want to find out more about Mackem Mashup or any other of the whole host of event the bunker is involved in, ring 0191 5671777 or email Info@Bunkeruk.com