Wednesday, 28 May 2014 10:43
Emerging talent within Sunderland will have an opportunity to showcase their stuff, with The Bunker's planned new project…
'Mackem Mash Up!' will be a day of gigs and workshops run by Monumental Music CIC, with Local DJ's and other musical acts running in between. The project is being crowd funded on Spacehive and The Bunker is currently looking for a mere £830 to run the project, so if you could find some money to donate, you would be supporting a great cause!
The event has three aims:
A day of exciting music performances
A series of music workshops and activities
To promote the creative people of Sunderland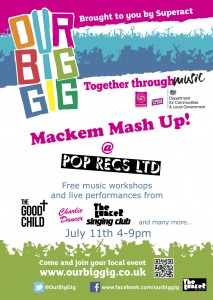 The performances will be an opportunity for bands to showcase their talent for the people of Sunderland and the northeast. But it will also be an opportunity for the bunker to show off the bands and acts it has been working with and who use their facilities. The Project plans to have musical workshops running thought-out the day, these activities will be a way to engage with the community, as both the bunker and Monumental music believe music is a way of tackling social issues within the said community. Music can be an inclusive activity, so this whole day will be an opportunity to get involved, and since 'Mackem Mash Up' will have something for all music tastes and ages, there is no reason not to take part!
Hannah Matterson, funding Co-Ordinator for the bunker, said this about the event:
"The Bunker is looking to deliver an exciting day of live music and workshops that everyone can enjoy for free. We want to be able to to help young and new bands to reach new audiences and develop a fan base as well as engaging more members of the local community in music activities. This is a great opportunity to merge both ideals, but we can only do it if members of the public help our campaign and pledge towards it! We're off to a great start but need a big push in the last two weeks."
So you are probably wondering why £830 is needed to run the event. A full break down of the costs can be found on the Spacehive link, but to give you a quick run down; Along with all the equipment needed to run a day of music (P.A. systems, paying for venues etc.) there will be workshop leaders to pay and Marketing & promotions to do. The bunker will also be putting together a team of 15 volunteers to help out throughout the day, so if you would like to get involved with the project give the bunker a call on 01915671777, or email at Info@bunkeruk.com.
Here's a link to the Crowd-funding Website – Mackem Mash Up