Wednesday, 05 October 2011 17:24
HOAX were a five piece post-hardcore, alternative rock band. Formed In late 2006 for a first gig with the now Defunct "Engerica" Since then were writing and gigging relentlessly across the UK.
This past year had also seen them play with established acts like Hidden In Plain View, Kubichek, Sucioperro, This Familiar Smile, Klay, Keiko and The Blood Brothers to name a few.
"We really appreciate everyone who makes it to our shows and we itching to go touring full time this summer with some more material and maybe a new recording. For now we are concentrating on writing and getting back in the studio again."
We have now released our debut E.P 'Trust The Impact' It is available on the internet through itunes and mail order (see top of this page) It is also available at all good local record shops such as; ALt Vinyl, Beatdown Records, RPM, Reflex and Hotrats as well as available on amazon and at HMV (just ask and they should be able to order you a copy in).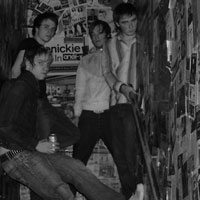 Please remember to keep checking the blogs as that is where we will be constantly updating all our news and information. Keep in touch for more information on our new recording.
Despite fads and trends surrounding them, they endeavour to make music that positively reflects themselves and their beliefs.
"Nothing could prepare us for the energy blast that eminated from the stage the moment they kicked into the first song."
Taco, Cert 18
"I've seen these guys a few times and I know what to expect, and yet they keep on surprising me. Whether it be with the direction of a new song or the reaction from the crowd, it's the fact that this is so clearly where they belong that tells me; they are not to be ignored."
streetphire.co.uk
"This energy ran through the audience fast and left everyone twitching like they'd been rather unceremoniously touched in a friendly way by the duracell bunny."
Yorkshire Post