Friday, 19 February 2016 13:04
I always nip myself when i think about all the years of Field Music that I've missed out on. As a teenager listening to the likes of The Futureheads and Frankie & The Heartstrings on repeat the Brewis brothers seemed to pass me by.
It's not as if they were obscure or not recognised, the band's 4th album 'Plumb' was shortlisted for a Mercury Prize back in 2012 for example, so when it came to the release of their latest album 'Commontime' I made sure I didn't miss out opting to take up Pop Recs Ltd's kind offer of getting a ticket to an instore gig completely free when you pre ordered the album and i'm glad i did. Seeing the perfectly crafted musicianship that Field Music have become known for in such an intimate venue was an experience that took my appreciation of the new album and Field Music to another level.
So how about that album?
Well it opens with lead single 'The Noisy Days Are Over', a track that had already been stuck in my head for a couple of months prior to the album's release due in part to it's impressive video which take in the sights of many Sunderland landmarks including Jackie Whites Market, fortunately smellivision hasn't been invented yet. Noisy Days truly is a perfectly crafted track, incorporating elements of funk with clever chords and that special kind of charm you seem to get with music penned in Sunderland. The track comes in at a little over 6 minutes though you don't notice the longevity of the track due to the way Field Music construct their songs, always building upon the basic foundations with various different instruments and harmonies, something that's impressive to see done live especially with the band of excellent musicians they've assembled to take the album on tour.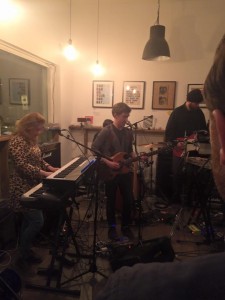 Listening to the 'Commontime' you get the impression that the Brewis brothers are perfectionists, people who live and breath music as is evident by their numerous side projects, they are always busy working on new musical ventures. It is hard to fit 'Commontime' into one category or genre, though one word that does stick around is 'funk'. The album has an underlying mixture of prog and funk which is carried from start to finish giving it a non stop groove only pausing briefly for 'The Morning is Waiting For You', a more stripped back song featuring  hauntingly wonderful string arrangements. Commontime seems to have something for everyone with the tracks 'Disappointed' and 'But Not For You' offering a more accessible side of the band with fantastically catchy pop songs sitting perfectly alongside more thought provoking compositions such as 'Trouble At The Lights' which offers up criticism at the current 'classist' nature of politics. 'It's A Good Thing' was a song i particularly enjoyed seeing live, each band member working in sync to perfectly deliver perhaps one of the busiest yet repetitive songs on the album, you could listen to this song over and over and still find something new each time. I think that's what make Field Music so good, that something for everyone, they mix all these fantastic musical styles and instrumentation into one big magic pot and what comes out at the end is Commontime. I give it a solid 8.5/10.