Monday, 17 August 2015 12:40
Last weekend, Arizona Sunderland played host to a magical event called "Eat Me, Drink Me" with the help of The Bunker. The event included a lot of wonderful food which we ate so much of, we felt like Tweedle Dee and Tweedle Dum by the end of it all! There were some arty crafts for all the little creative minds out there to get involved with and the buskers we provided shone throughout the whole weekend.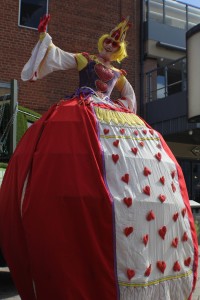 Even the wicked Queen of Hearts enjoyed the music! This weekend was a truly wonderful treat to be involved with.
If you have missed the "Eat Me, Drink Me" event last weekend, don't fret, there is another spectacular event coming up this weekend! This weekend you could be involved with a rabbit petting zoo, face painting, buskers, funfair rides and many, many  more fun activities. If you are interested and want to know more, click here and we will see you there!