Friday, 23 October 2015 13:47
Tuesday 20th saw the return of our monthly Bunker Presents gig, this time at The Corner Flag where an array of artists who have honed their talent from within The Bunkers walls took to the stage to perform under signed gloves from the likes of Thomas Sorensen, Craig Gordon and Simon Mignolet, and while none of these goalkeepers may be able to rise to the occasion with such unquestionable solidarity as someone such as, let's say Middlesbrough's Dimi Konstantopoulos, the musicians on the night luckily didn't follow in the footsteps of Sunderland's years of defensive vulnerability with each individual rising to the occasion instrument in hand.
First up was solo artist Adam Littlemore, just one man and his guitar offering a unique take on a solo performance, and while his trademark violin bow didn't make an appearance this time round, new techniques like finger tapping did, all with a good helping of reverb and delay in a performance that showed a flourishing musician full of confidence. Continuing on that theme, there aren't many young bands who perform with as much confidence as RMXS. The Bunker regulars took to the stage once more to perform their familiar set of raucously energetic indie covers and originals. Perhaps the best compliment that can be said of RMXS is that the originals stand there own alongside covers of songs from the likes of Kings Of Leon and Arctic Monkeys. I often find that I come away with the chorus from 'Bletch' stuck in my head rather than 'I Bet You Look Good On The Dancefloor'.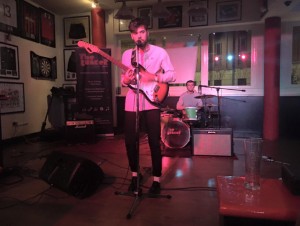 Last on the stage were alternative rock duo Blush. A band that may remind you of Slaves in more ways than one delivered a set worthy of headlining on a night that what was by all accounts only their second gig. A raw powerchord  fuelled set was a perfect way to close a night full of guitar distortion and snapped drum sticks. Keep an eye on our Facebook page for details about the next Bunker Presents.
See you there,
James Brydon