Monday, 23 November 2015 12:57
On the 12th December 2015, we are hosting a Christmas Fundraiser at The Bonded Warehouse to raise  money for The Percy Hedley Foundation and The Arts Award Training. The theme of this night is Dr. Seuss so if you are turning up, make sure you are prepared for the madness to follow!
"Then the Grinch thought of something he hadn't before! What if Christmas, he thought, doesn't come from a store. What if Christmas…perhaps…means a little bit more!"
― Dr. Seuss, How the Grinch Stole Christmas!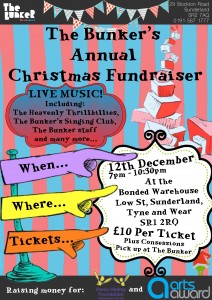 The Arts Award
Arts Award is a range of unique qualifications that support anyone up to 25 to grow as artists and arts leaders, inspiring them to connect with and take part in the wider arts world through taking challenges in an art form – from fashion to film making and music, pottery to poetry.
Percy Hedley Foundation
The foundation is a registered charity that provides services for disabled people and their families.
We worked with The Percy Hedley Foundation, providing them with a drumming workshop after they had contacted us about their employability scheme, this workshop was provided to help us get to know what they provide and how we could help them to do so. They enjoyed the workshop so much that they sent us some thank you letters to let us know!
Liam even got photo-bombed by E.T.
The tickets for this event can be purchased at The Bunker, all money raised during the event will go toward The Percy Hedley Foundation an the Arts Award Training.
 However, if you would like to donate straight to The Percy Hedley Foundation, Follow this link: