Thursday, 02 June 2016 15:13
Day 3:
The day began with a brief overview of the days plans where we were assigned roles, similar to yesterday. Everybody filled in their log books and answered part C which was all about who inspires us in our lives.
Later in the day the musical team continued to practice their songs in preparation of the gig tomorrow, making some great developments. The tech team visited Pop Recs next door and created a floor plan so that they would be able to set up much quicker tomorrow, they also did a mock set up in room 4 where they practiced the full gig to iron out any potential problems they may have.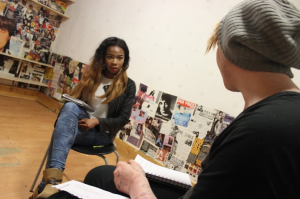 The creative team also worked on everybody's interview videos! The videos have been cut, cleaned and edited. Whilst also working on our play bill which features St Aidan's band 'The Criticism'  as well as our own band 'Three Thirty PH'. As well as this, portfolios have been created so that we have a clear foundation of what each person has done within a file.