Wednesday, 01 June 2016 15:41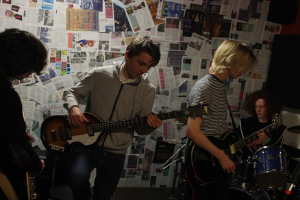 Day 2: The day began with a general introduction to the individual roles for the Musical, Tech and Creative teams, involving a brief overview of the plan for the day.
The Musical team consisting of several Bunker staff members and the band from St Aiden's school worked on creating their own song and their own lyrics. The Tech team picked up from where they left off at Sunderland Empire where they had learned about monitor mixers and cue point
s. They then spent the day working on ways to apply this type of work  to what we do. Finally the Creative team conducted interviews which went towards the Art's Award, everyone who was working on their award today answered questions about what they had learned from their experience in the last week as well as what they feel they have improved about themselves. In addition to this they also created a playbill regarding the gig at Pop Recs Ltd on Friday which is based off the theme of the old early 1900's playbills that the Empire used to use.
Tomorrow there will be continued development on the music in anticipation of the gig on Friday.